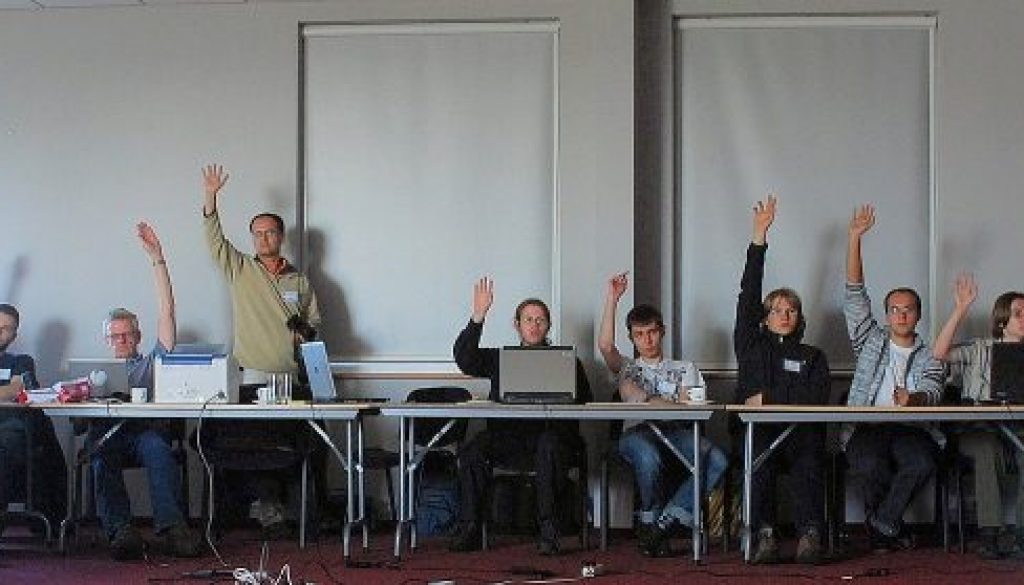 In every democratic vote, the will of the larger group is forced upon the minority group. At one point or other every individual subjected to the process finds themselves on the losing side. In most aspects of life, such a process which consistently and unnecessarily produces losers would be considered completely unacceptable…but with politics, it's a given.
Consensus is an entirely different approach, based in morality and cooperation. Rather than creating and encouraging stark opposition on every topic, consensus inspires bridge-building and finding points of agreement. While it doesn't guarantee that everyone is 100% satisfied with every outcome, every time, it ensures that every decision made is at least acceptable to all involved. Participants may voluntarily choose to acquiesce at times, often with compromise and understanding of future quid pro quo.
Isn't this impractical? What happens when everyone can't agree?
When consensus can not be reached (ie one or more people is unwilling to submit or compromise), the group is no longer a cohesive unit. The logical and peaceful outcome is simple separation, with the dissenting individual(s) departing from the group. However if this peaceful separation is not allowed to occur, and the group is forcibly held together against the will of the dissenter(s), the individuals who were once willing participants are now essentially prisoners. Any authority granted to the group by unanimous consent becomes moot, and any effort to maintain the supposed post-unanimity authority is illegitimate. Only violence and oppression can result once the element of voluntary cooperation is replaced by force.
Such an outcome can be easily avoided. The moment an irreconcilable difference arises, participants may exercise their freedom of dissociation and decide whether or not to continue their participation in the union.
So, when someone changes their mind, what prevents them from breaking their stated commitments to the group?
There is a clear and critical difference between backing out of an established commitment, and choosing not to agree to such a commitment in the first place. For example a person who has agreed to pay for services rendered can not simply absolve themselves of the responsibility to pay because they no longer agree with their initial commitment. However a person who has never agreed to pay for the services can not be obliged to do so.
Wouldn't this only work on smaller scales?
Quite possibly, scale may indeed be a limitation of consensus…but that's a strength, not a shortcoming. If a group of individuals becomes large enough that fully voluntary agreement can no longer occur, the healthy option for both the group and the members is to peaceably disband into smaller groups which can reach unanimity among themselves. Such an outcome renders all individuals willing participants, rather than the unwitting objects of the wills of others.
While agreement among a small number of people can be relatively easy to accomplish, points of agreement between groups will decrease in number as the size of groups interacting with each other grows. To illustrate: two groups may agree with each other on 20 points; ten groups may only agree on 10 points; and three large collections of groups may agree with one another on just 5 items. As scaling occurs, this diminishing potential for consensus on all points is natural, and allows all individuals involved to maintain free association while avoiding being involuntarily subjected to rules and standards with which they don't agree.
Democracy may not be perfect, but isn't it the best option?
Putting aside for a moment the life-long indoctrination touting the merits of democracy, it's possible to view the system for what it is: a tool for legitimizing the adage of "might makes right". From a moral standpoint, it seems obvious that one group's rights can not be infringed simply because an opposing group has more members. Likewise a political body or entity can never be justified in imposing its will on another unless each group or individual involved has the ability to voluntarily dissociate itself.
A world where progress is built on voluntary cooperation is one that will allow communities to prosper without producing victims and discord. Rather than guaranteeing losers with every election, let's broaden our possibilities to allow for peaceful agreement when it is possible, and amicable dissolution when it is not.