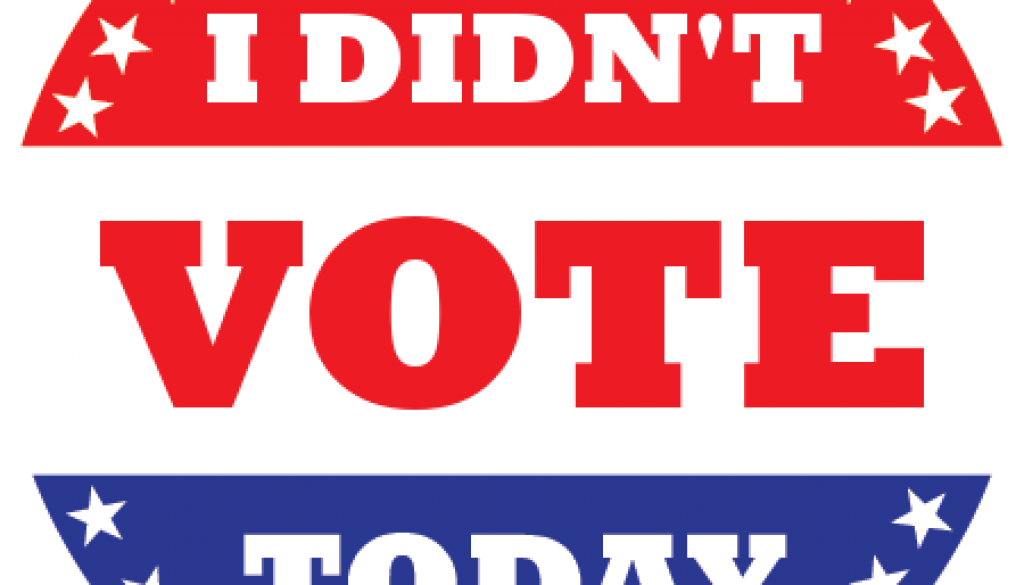 Voting, like everything else, should be a matter of personal preference.  Unfortunately though, sometimes sporting an "I Voted" sticker doesn't quite satisfy people's need for virtue-signalling, and they need to take it to the next level: vote-shaming.
Here are some common (and demonstrably refutable) claims about voting:
"If you don't vote, you can't complain."
Putting aside the arrogant and condescending nature of this statement, the claim is totally illogical.  If a robber approached you and demanded that you hand over either your wallet or your car keys, and then takes your wallet when you refuse to comply, at what point during that interaction did you "give up" your right to complain?
Forcing a selection on someone in any other scenario would be considered unacceptable, and voting should not be any different.  Given the dessert choice of rat poison or anthrax, no one would fault you for saying "I'll pass, thanks."
No, refusing to choose a lesser evil does not mean you forfeit your right to express your dissatisfaction.  Sadly, many voters are so indoctrinated into the process that they forget that if they're voting in self-defense, they still have every right to complain about their would-be oppressors.  They're so swept up in the game that when their candidate loses, they believe in the legitimacy of the the winning candidate to rule over them.
The non-voter has every right to complain, as they simply refuse to take part in a game they know to be rigged.
"Voting is your civic duty"
In reality, most voting is essentially an attempt to use the power of government to impose one's preferences onto someone else.  The idea that we are somehow obligated to impose our will on strangers in this way is absurd.
Even worse, the secret ballot practice ensures that no one can be aware of who is oppressing them.  If a person didn't have the protection of the secret ballot and had to be open about their intentions to take money or property from others, they'd be far less likely to do so.
"You want to set a good example for your children, right?"
People raise their children in different ways, but blind obedience to authority has generally not proven to be a positive lesson that parents can pass along to their kids.  We're all happy to see young people "thinking outside the box", but when it comes to politics, they're expected to line up and do as they're told.
For those of us who don't see virtue in blind obedience, our children will at the very least experience an alternative viewpoint.
"Sometimes you have to vote for the lesser of two evils."
Not voting for any evil actually sounds much better.
Conclusion
Regardless of one's political leanings, one thing is certain: the process of voting moves the focus away from what individuals can do when working together voluntarily, and places it on politicians and what they can impose on others by force.  By accepting this system and its outcomes, power is shifted from bottom-up initiatives to top-down policies.
The next phase in societal evolution requires the rejection of violence as an acceptable means of forward progress.  Once enough people recognize the inherent violence of government and the immorality of democracy and all its other forms, a predominance of peaceful cooperation will become inevitable.
In the meantime, abstaining from voting as a rejection of a rigged, immoral system is a completely moral option.